NEVERMORE
"The Obsidian Conspiracy"

[CD – Century Media]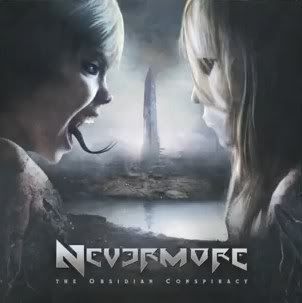 São daquelas bandas de personalidade inabalável. Repare-se até, feito notável, mantêm o seu núcleo duro basicamente desde a sua formação, em 1991. Uma voz inconfundível e um trabalho de guitarra tão versátil e arrojado como só Jeff Loomis é capaz de assinar, fazem dos Nevermore uma entidade quase impossível de caracterizar por termos ou conceitos pré-estabelecidos. São Nevermore… e assim continuam.

Já não restam dúvidas que ao fim de sete álbuns este quarteto de Seattle já nada tem a provar e sabe que explorando a própria estranheza da sua identidade encontra a sua grande imagem de marca. Entretanto, o groove, a pujança, a técnica e a melodia continuam lá, bem como a emocionalidade e sentido épico na voz de Warrel Dane. Alternando inteligentemente em termos de dinâmica, aliás, como sempre, os Nevermore concebem riffs esmagadores como os de "And The Maiden Spoke", "Without Morals", "She Comes In Colors" ou "The Obsidian Conspiracy" ao mesmo tempo que conseguem tocar-nos com a profunda melancolia de "The Blue Marble And The New Soul", onde as letras de Dane ajudam grandemente, bem como os solos retro de Loomis. Já os refrões de "Termination Proclamation" e "Emptiness Unobstructed" são sacados em "laboratório" e prometem provocar coros arrepiantes ao vivo.

Para uma média tão alta em termos qualitativos no percurso de uma carreira, um álbum como "The Obsidian Conspiracy" acaba por não ser revolucionário, mas promete certamente manter a "alta rotação" e oferece alguns dos temas mais sólidos que os Nevermore alguma vez escreveram.
[8/10] N.C. Estilo:
Progressive/Groove Metal
Discografia:
- "Nevermore" [CD 1995]
- "The Politics Of Ecstasy" [CD 1996]
- "Dreaming Neon Black" [CD 1999]
- "Dead Heart In A Dead World" [CD 2000]
- "Enemies Of Reality" [CD 2003]
- "This Godless Endeavor" [CD 2005]
- "The Obsidian Conspiracy" [CD 2010]
www.myspace.com/nevermorefans